THANK YOU FOR YOUR DONATION, WE HAVE REACHED OUR TARGET!
Beautiful concerts, compelling performances and mysterious installations with ceramics, music and sound at the European Ceramic Work Center: that is what we want to achieve with the Soundlab. Help us take the next (musical) step and walk with us like a bull through a china shop: donate to the EKWC Soundlab!
What does ringing ceramic sound like, what happens when you throw plates against the wall? And can you make music out of that? We want to offer composers, sound artists and musicians the opportunity to work with the sounds of ceramics. So that you as a visitor can enjoy special concerts at the EKWC.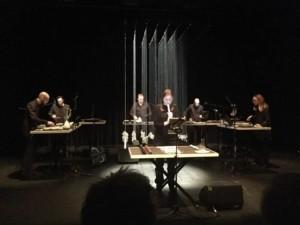 What exactly is the Soundlab?
The Soundlab will be a meeting place and platform. The Soundlab consists of a sound and ceramic studio for working and a concert hall for public appearances and performances. And we need your help with this!
Where does my donation go?
With your support we can purchase measuring equipment, synthesizers, microphones and amplifiers. Furthermore, with your contribution we can make one of the studios acoustically suitable for working with sound and we are able to realize a concert hall with 40 seats. A place where we can bring you the compositions, songs, performances and installations created in the studio.
Why now?
The demand from participants to be able to work with sound has increased considerably in recent years. However, we have insufficient facilities to meet that demand. With the realization of the Soundlab we want to give sound and music a permanent place within the EKWC in order to be able to explore the boundaries of musical ceramics.
An uniqe reward
During this crowdfunding you can also get a working period for yourself! For a donation of € 15.000 you are welcome here for three months to come and work. With ceramics only, or with ceramics and sound, the choice is yours. We have a studio for you and you can work here 24 hours a day. Interested? Please contact Jorgen Karskens, jorgen@ekwc.nl.